We at Orlando Custom Home Builders love home design. But to be honest, who doesn't love a well- designed home? So we thought it would be a good idea to from now on share some of our latest home design crushes with you, dear reader, on our blog.
It is one of the most important rooms of any house, even though most people keep it private: the master bedroom. It is our place to relax, rest and feel completely comfortable and at peace. That why bedroom designs matter and it is really important to create a master bedroom that makes you feel good and let's you sleep as well as possible.
Whether you like minimalistic bedrooms, modern or traditional designs, a room that is all white or more colorful – you should choose an overall bedroom design that fits your own personal style best.
To start your journey to your dream bedroom, we would like to share 10 of our favorite bedroom designs with you today! So let's get started, in no particular order:
1.

This bedroom features a small seating area and the silver gray walls create a calming atmosphere.
Source: Traditional Bedroom by Minneapolis Interior Designers & Decorators Martha O'Hara Interiors.
2.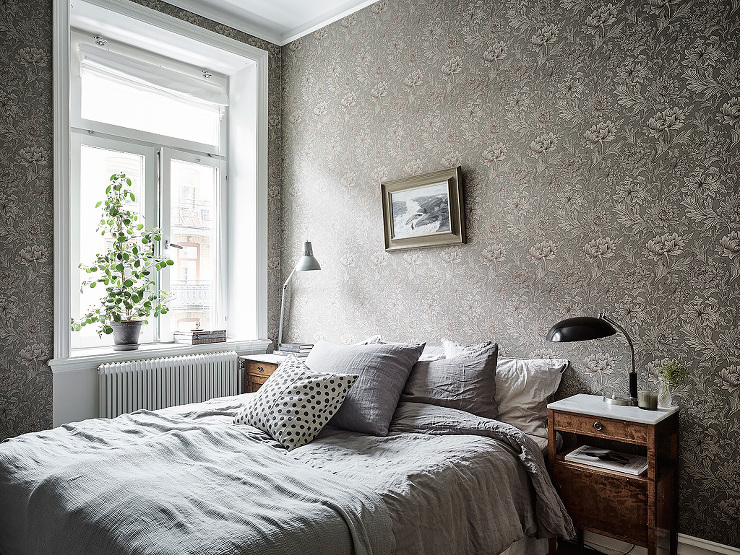 This small bedroom is a perfect example for Scandinavian design. It also shows that you do not need a lot of elements to create nice interiors. The wallpaper choice and overall grey color scheme add to its style.
Source: Belonging to stylist Johanna Bradford, photos by Anders Bergstedt via Entrance Fastighetsmäkleri.
3.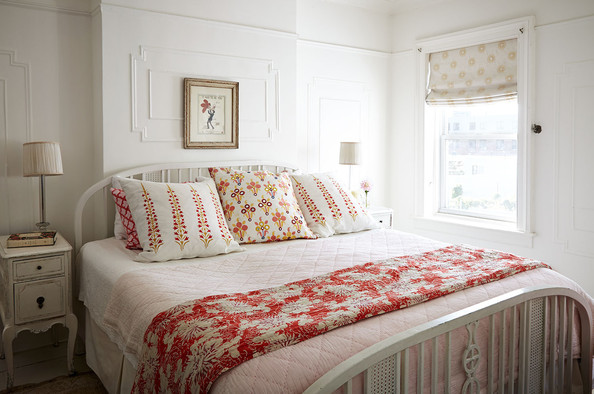 This vintage style bedroom combines an overall white shabby chic interior with orange, pink and red dots of color with retro design elements in the textiles. Even if vintage is not your thing, this bedroom illustrates that you can use textiles and a few pieces of home decor to overhaul the design of an entire room without spending a fortune.
Source: Lonny Magazine, November 2014 issue.
4.

Another example of a calming bedroom with warm elements and a classic, traditional style that makes it seem timeless.
Source: Traditional Bedroom by Sierra Madre Interior Designers & Decorators Talianko Design Group, LLC.
5.

This contemporary bedroom combines soft colors with a modern, glamorous design.
Source: Contemporary Bedroom by Miami Interior Designers & Decorators DKOR Interiors Inc. – Interior Designers Miami, FL.
6.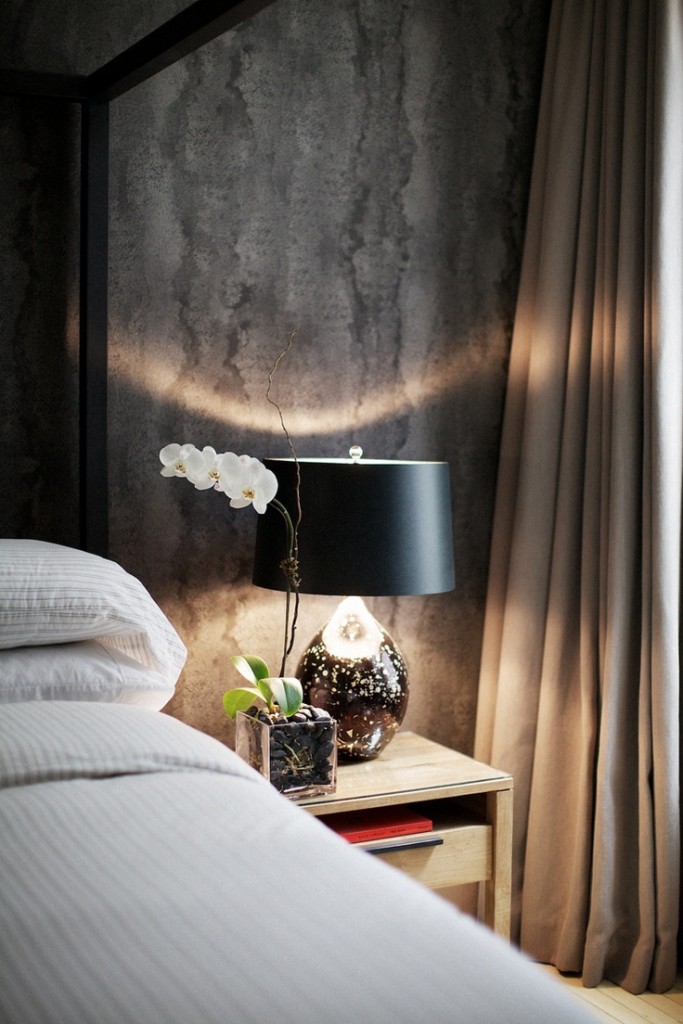 This beautifully designed bedroom sticks to an overall taupe and earthy color scheme. The wallpaper adds glamour to an already luxurious seeming bedroom.
Source: Rue Magazine (Anniversary Issue 2011). Styling by Laina Navarro. Design by ID810 Design Group. Photographed by Emily Anderson; image via Homedit
7.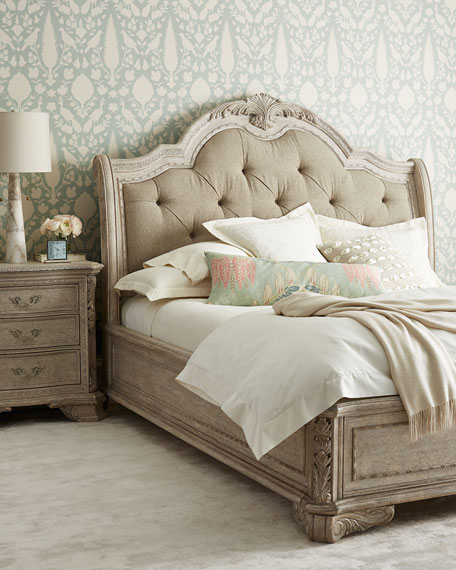 This lovely bedroom really ranks high when it comes to comfort levels.
Source: Neiman Marcus Camilla Bedroom Furniture
8.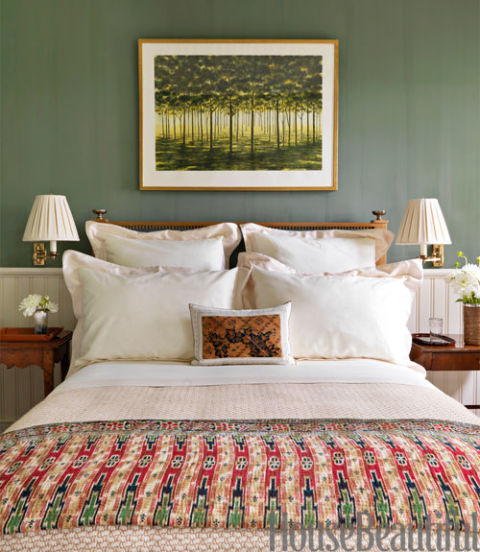 Don't be afraid to showcase what you love! This sage green bedroom includes artwork and an Indonesian quilt as personal touches.
Source: House Beautiful / Thomas Loof
9.

This bedroom combines a darker colored wall with lighter colors in the furniture and decor choices and shows that even the usage of a stronger wall color can compliment an overall calm and tranquil room.
Source: Transitional bedroom by Barbara Purdy Design Inc.
10.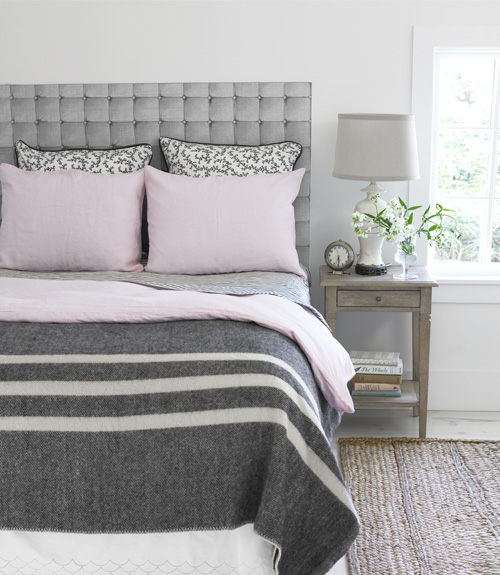 If you don't want to commit to a colorful bedroom wallcolor, you can always stick to neutral tones like in this bedroom. Adding colors and patterns in accessories and home decor is an easy way to add on to an otherwise neutral color scheme in the room.
Source: Country Living, Sept. 2011 – Photo By Miki Duisterhof, seen on Decorpad
These are only 10 examples of successful bedroom designs. There are many more ways of creating your dream bedroom and we are happy to give you more inspiration for bedroom design ideas and tips in the future!